5 Essentials for Your Condo Entryway
No matter how small your condo entryway might be, you can still create a functional and attractive space that suits your lifestyle. Here are a few essentials that will add practicality to your entry space, while at the same time, creating some design flair.
Hooks
There is a wide variety of hooks you can purchase to hang your coats, bags, and umbrellas. You can get one rack with multiple hooks, a coat stand, or individual hooks similar to those displayed in the picture below. The benefit of getting individual hooks, is that you can arrange them in a way that makes sense for your specific space.
A Chair, Stool or Bench
It's always a good idea to have a place to sit down and tie up your laces or take off your boots. You can find the right size of seating to work in your space be it a chair, stool or bench like in the image below.
A Mirror
Having a mirror in your entryway is very practical. It gives you the chance to check yourself before you leave your place, a way for guests to check themselves as they walk into your place, and it adds space perception. You can go for floor length, or a smaller round or rectangular mirror as displayed in the picture below. Don't be afraid with size. An oversized mirror can add more space perception in an otherwise seemingly tight space.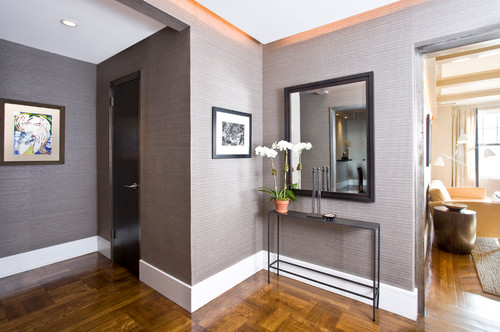 Console or Shelf
Don't think your space is too small to add a little resting place for your things. In fact, you don't need a traditional console if space is limited. A floating shelf is used in place of the traditional console. Using a floating shelf allows you to add storage underneath. In the picture below, the extra space allows for an umbrella holder and a place for everyday shoes.
Baskets
Ideally, you'll want to keep a basket or two in your entryway to dump the everyday things like keys, mitts, mail and more. A basket hides away these tiny necessities without creating chaos and clutter, yet keeps them accessible. Plus, if you have an unexpected guest, your entryway already looks clean and tidy because the tiny things are tucked away in a basket.
(Image source: all images are from
houzz.com
)