Holiday Decor Ideas for The Minimalist
If you're a person who simply avoids accumulating more stuff in their home, it doesn't mean you can't still have a festive holiday season. In fact, a minimalist approach to holiday decor can actually come across as very stylish and chic! Here are some holiday decor tips for the minimalist!
 1. Go with the flow of the room: In this picture, a traditional green tree is replaced by a wooden tree with very few decorations. The tree blends in with the rest of the decor, creating flow and continuity in the room. A simple string of lights hangs in the corner, while a branch adorned with white stars sits on the table – holidays without disruption!
2. Colour coordinate with what you have: In this photo, greeting cards, candy and other holiday knick knacks are gathered in one area. What keeps this arrangement easy on the eyes, is the consistency in colours: red and white. You can easily create this look by assessing what you already have such as existing holiday decor, plus holiday cards and candy, and arrange together on a mantle space, console table or step ladder (if you have one)!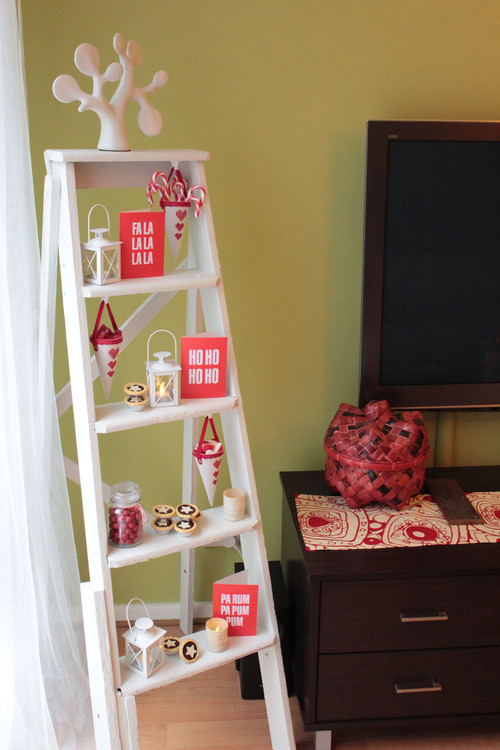 3. Go DIY: Create your own holiday decor with stuff you already own. Here, a cheery banner and christmas tree ornaments are made out of different types of paper.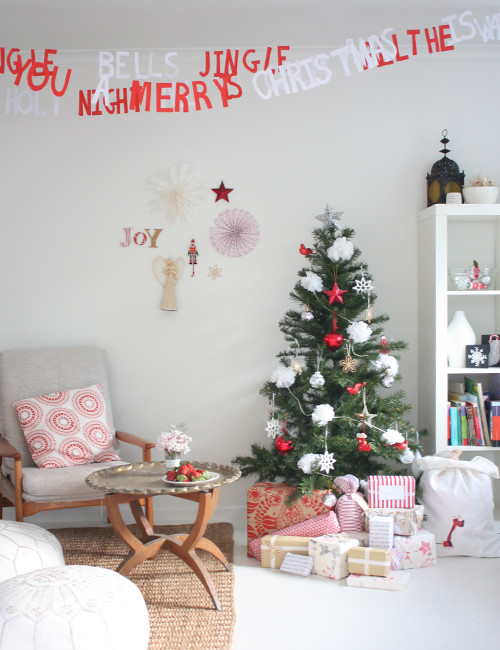 4. Skip the ornaments: The tricky thing about christmas tree ornaments, is we can never buy enough. Each year, many of us want to try a new colour theme or style for our trees. But, we end up with more bulbs and frills – and where to store them all afterwards? Ever thought of ditching ornaments all together? A full tree can look beautiful on it's own with some simple lights and a nice pot to place it in.